Furniture giant IKEA has made vegan news a fair few times, for example when they laughed vegan meatballs and when they announced they would be releasing a vegan hot dog and dairy-free soft serve ice cream.
Not only have they now launched their dairy-free soft serve for the first time (very far away from us *cry emoji*), but they have actually replaced the dairy ice cream with it!
When IKEA first announced their plans to launch a vegan ice cream, the managing director of IKEA Food Services, Michael La Cour, made the following statement:
"As always when we develop new products we have to secure that it is delicious and that our customers like it.
"There is no point in creating a more sustainable option for our customers if it is not tasty. Every year 660 million people enjoy the IKEA Food offer and we see this global reach as an opportunity as well as a responsibility to serve food that is good for people and the planet."
Just last week, IKEA Malaysia released the news on their Facebook page, saying: "We've now swapped our vanilla soft-serve with 100 percent plant-based, dairy- and gluten-free soya ice-cream", explaining it is "all part of our plan towards a more sustainable environment, one soya ice-cream at a time." 
The post came with the following image, testament to IKEA's ability to make a good pun as well as great flat-pack furniture.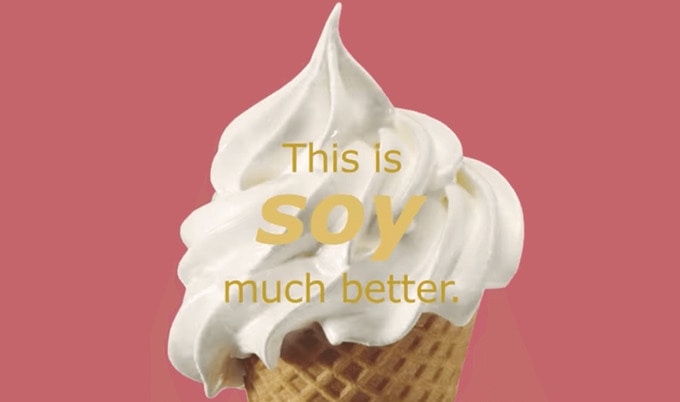 Unfortunately for those in the UK, unless you're planning a trip to Malaysia you may have to wait until summer 2019 before you can enjoy some vegan soft serve. But we're sure it's going to be worth the wait!