The Hungry Horse chain of pubs is now offering a wide variety of vegan options, including tofu-based 'fish' fillets, a roasted tomato soup, falafel burger and even a warm Bakewell tart with vegan ice cream for dessert!
Last Tuesday, two of us from the GreenBay team were the first to try the new vegan 'fish' and chips at The Fox Under the Hill, a Hungry Horse pub.
While the standard sized option of the 'fish-free fillets and chips' is usually priced at £5.99, you can grab two for only £8.49!
Better yet, on Tuesdays you can get the 'Big Plate Specials' for just £5 (almost half price), which includes a 'Mix it Up' option where you can order three of the vegan fish-fillets, a sauce and two sides (we went for Mexican rice and chips).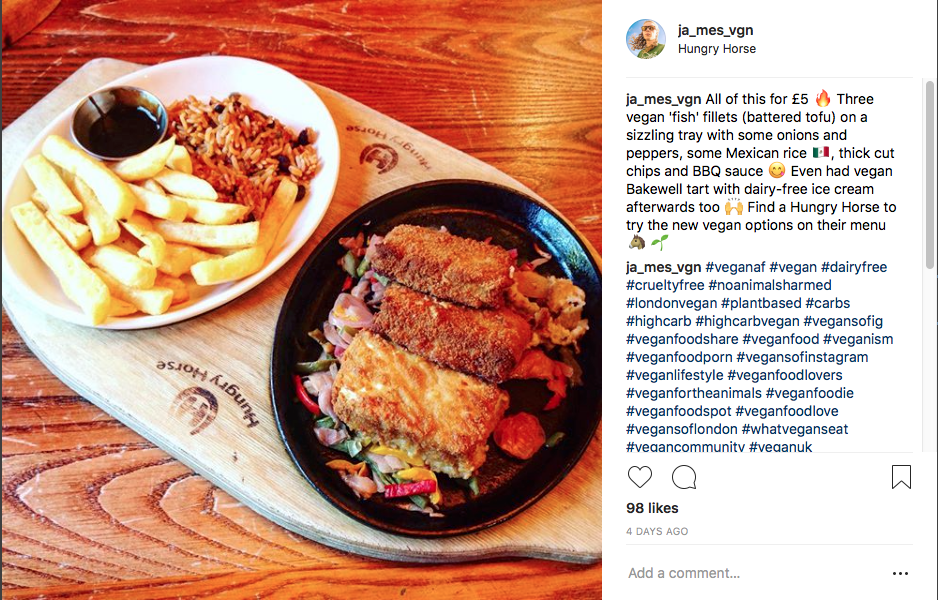 This gives you a pretty hefty helping of vegan food to get through, and all for a fiver!
Find your nearest Hungry Horse Pub here. 
Read more here.